To join a Virtual Inspection as the Camera Operator (the person onsite at the property) you will need to:
- Have an Apple or Android mobile device or tablet that has a connection to the internet.
- Be running Apple iOS or iPadOS 12.0 or higher, or Android v8 or higher.
- Have the permission to install apps from the Apple or Google stores.

How to join a Virtual Session
Step 1 - Installing the app
- Once the inspection is scheduled, you will receive an email containing details of the inspection and the unique session code.
- The email also contains links to install the Live by HappyCo app from the Apple or Google stores.
- If the Live app is not installed on the device you intend to use, click the iOS (Apple) or Android link in the email to be taken to the relevant store to download the app.
Step 2 - Joining the Virtual Session
- At the time of the inspection, either copy or write down the 9 digit session code provided in the email.
- Open the Live app and click I understand to confirm that you understand the video footage is being recorded.
- If this is your first time opening the app, you will be prompted to allow Live to access your Camera and Microphone. Make sure you click OK on both of these.
- The next page will ask for your name and the session code. Tip: You can copy and paste this code from the email.
- Entering the code will open the virtual session; if there are others already there, you will immediately be able to speak with them and they can communicate back with you.
- If others have not arrived yet or they all leave, the screen will say Waiting for others….

Step 3 - During the Virtual Session
You have several controls available to you during a virtual session:
- In the upper right corner of the screen you can click to see the other participants.
- At the bottom you can click to switch the camera view and also click the red cross to leave the session.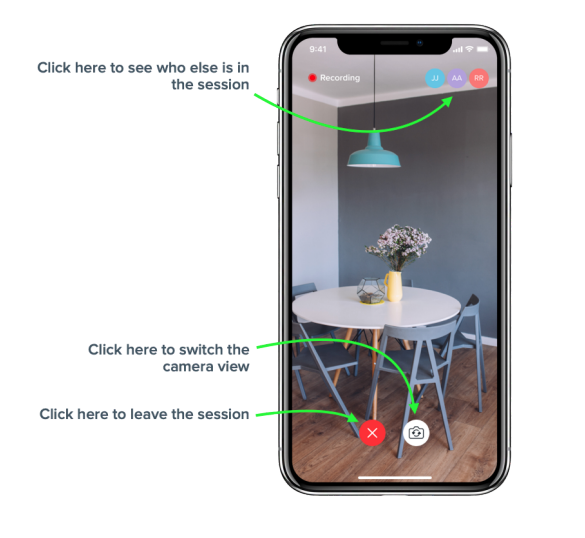 Having trouble? If you are having trouble you can visit support.optigohappy.com or if urgent call dedicated support at (447) 427-7926.